At just 23 years old, Minnesota Timberwolves center Karl-Anthony Towns already has a wide array of basketball moves in his bag.
He's fast enough to pump fake and blow past opposing bigs off of the dribble. He's got a soft-as-feathers hook shoot that he leans on when operating out of the post. He loves to trail behind the offense, grab a pass in stride and force his way to the rim for a dunk; if a defense sees that one coming, he'll simply catch it and flick up a 3-pointer.
Obviously, he's not just good at creating these looks — he's good at making them, too. According to NBA.com, he's the only player with any sort of volume that has eclipsed 1.0 points per possession out of the post during each of the last three seasons. Even though he's rightly exchanged a majority of his mid-range shots for threes, he's still made higher than 40% of his attempts from just inside the 3-point line during every year of his career. And stepping back behind the arc, he's the only true big man (and one of nine total players) that connected on greater than 40% of at least 250 heaves in both 2017-18 and 2018-19.
Altogether, that 3-level shot-making prowess has provided Towns a level of scoring efficiency that's never really been seen at such a young age: among players to average at least 15 field-goal attempts throughout their first four NBA seasons, Towns ranks first all-time by true shooting percentage (61.9%). In fact, the difference between Towns and the second-ranked player on that list (Kiki Vandeweghe, 60%) is about the same as the difference between the second and ninth (Michael Jordan, 58.2%).
And critically, the big man's individual brilliance has ensured an inspiring baseline of offensive effectiveness for his team, even despite the bouts of organizational dysfunction and schematic obsolescence that have plagued the Wolves throughout Towns' tenure
Obviously, Towns has huge improvements to make in other areas. More than anything else, he has to hone his defensive awareness and execution. But also, the big man must deploy his aggression more strategically in order to avoid playing himself off of the floor with foul trouble. Those are, in broad strokes, the only two facets of the game — sans his team's mediocrity — holding Towns back from being named alongside more serious MVP candidates.
So it makes sense to obsess over those shortcomings when evaluating his prospects for improvement moving forward. But it's also fun to take a moment and contemplate the ways that Towns — despite the polish he already shows — could still get better on the offensive end.
____
Before training camp began, The Athletic's Jon Krawczynski spoke with a handful of relevant parties to learn more about Towns' focus during the offseason. In that piece, Matt Mazarei — a skills trainer that has worked with the Wolves' center throughout his career — discussed Towns' evolution in depth.
"[Towns] would do pick-and-roll action, pick-and-pop, very elementary type big-man stuff," Mazarei said. "He was awesome at it, one of the best jumphook shooters in the league. So we were like, we can totally start expanding."
In dissecting Mazarei's descriptions, his genuine excitement about Towns' growth becomes obvious.
"Oh my god, this guy could be a seven-foot guard."
Naturally, that line will evoke visions of Towns as a passer, making plays for his teammates from all over the floor. But throughout the exhibition potion of this 2019-20 campaign, Towns has shown flashes of at least one other notch in a seven-foot guard's belt: he's improved his step-back 3-point move.
____
Houston Rockets guard James Harden — en route to cementing himself as one of the league's best players — has made the step-back 3 his staple play; it's so effective and unguardable that fans, players and analysts alike have resorted to lamenting its unaesthetic nature, even despite its obvious brilliance.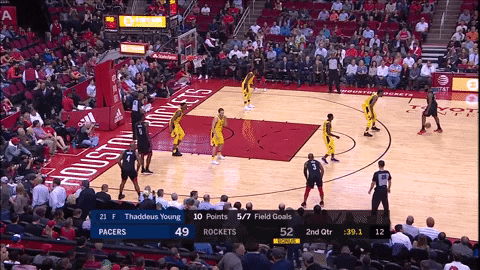 The shot requires a combination of touch and quick-twitch athleticism that would seem to make its execution more difficult for a player the taller they stand. But nevertheless, Towns has been working to master this move for quite some time. Although he didn't really attempt a true step-back during his first couple of years in the league, he began to show it off sometime between the end of the Wolves' 2017-18 season and the beginning of their 2018-19 efforts.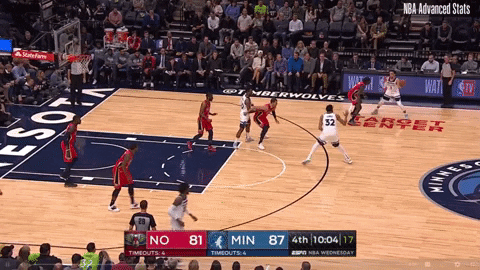 This clip is from November of 2018 in the fourth quarter of a matchup against the New Orleans Pelicans. Towns receives the ball from Tyus Jones at the top of the key, briefly puts it on the floor and watches as his defender (No. 3, Nikola Mirotic) thinks about protecting the drive. Immediately, Towns hop-steps to get his feet back behind the 3-point line and fires up a shot. It was somewhat staggering when he began to create this kind of look, but at the time, his movements were rigid and he didn't sell the fake with nearly enough purpose. As a result, his defender wasn't far enough back on their heels and, oftentimes, was still able to sufficiently contest the attempt.
Then, over the course of last season, Towns offered periodic glimpses into an improved version of the very same trick.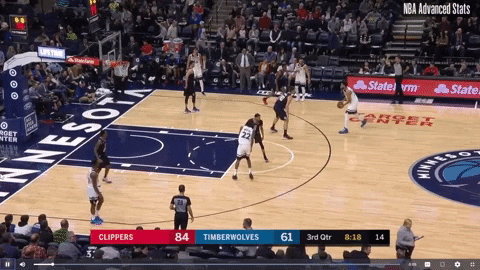 Here, in March of 2019, Towns is faced up against Los Angeles Clippers center, Ivica Zubac. Towns begins by half-heartedly pump-faking to invite Zubac out toward the perimeter. He then takes one dribble and a much more pronounced step toward the basket in order to get Zubac retreating into the lane. But quickly, Towns picks up his handle, leaps backward and heaves a faintly contested three.
His isn't just a step back, either — Towns is actually making a double move to create the space. And at the end of last season, that move was starting to look more smooth, repeatable and dangerous. It looked like a weapon he'd be able to use in attacking just about any defender at any point in a game. And based on the evidence, it appears to be something that Towns worked to bolster over the course of this summer.
Evidence that now includes four preseason games.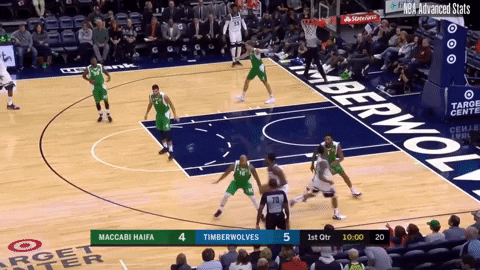 Sure, the above play came against non-NBA competition. A better defender may not have bit so hard on the drive; a more athletic counterpart could have adjusted and offered a more respectable contest. But he did it again against the Indiana Pacers on Tuesday, and even isolating Towns' movement in the above play, it becomes clear that his step-back has improved yet again: the pump fake is far more exaggerated, thorough and believable, his jab step is even more intimidating yet he still manages to get back to his shot just as quickly.
____
There's already very little that Towns can't do on the offensive end, but smart minds can still disagree about the plausibility of designing a modern NBA attack around a big man. It's just harder to get the ball in their hands, especially during the postseason or in the waning moments of any competitive tilt. Certainly, though, a center that has the gravity of a pick-and-pop threat, the brawn to shine on the block, the speed to take opponents off of the dribble and the craft to execute a step-back three provides the best chance of squashing that debate in favor of players like Towns.
Now, the impact of adding this action to his repertoire will depend on just how frequently Towns is willing to deploy it. According to NBA.com, he only attempted 15 such 3s throughout the 2018-19 season; what's more, a majority of them weren't nearly as flashy as those discussed above — they tended to involve Towns catching a pass in the mid-range, dribbling backward and letting it fly.
Nevertheless, the All-Star is clearly motivated by the chance to demonstrate talents that he feels have been stifled in the past.
"It's going to be fun to be able to tap into a little more with Ryan Saunders at the helm," Towns explained for a separate column with Krawczynski and The Athletic, "I'm going to have a lot of fun being able to play more freely and be able to do things I've been doing my whole life that I've been held back from doing in the NBA so far."
Saunders and president Gersson Rosas have thematically discussed the idea of leaning on and emboldening Towns' talents. Coincidentally (or not), he's attempted nearly 12 3-pointers per 36 minutes of action throughout this preseason, well more than double the 5.0 he put up in 2018-19.
The Wolves, it seems, are moving to invert their offense by using Towns as a playmaker at the top of the key while asking the rest of a lineup to cut intelligently and make plays off of the catch. If, within that scheme, a couple of Towns' 3-pointers every night are of the step-back variety, it will ensure that defenders cover him extra close, it will create space for he and his teammates to drive into the lane and, in general, it will make Towns an even more unguardable offensive force.
Regardless of his individual success, Towns has rarely been given the organizational or stylistic support that other young all-stars tend to receive. But now he's enjoying just that, and 2019-20 will be all about stepping back into the spotlight with a deeper bag of tricks.
The post Karl-Anthony Towns is Honing His Step-Back 3-Point Move appeared first on Zone Coverage.