This is the system Ryan Saunders always knew he wanted to implement if he was ever given the reigns to coach a NBA team. Free-flowing in nature, definitively positionless, bombing from 3-point range and, if everything goes to plan, faster than any other team in the NBA.
In ten years of assistant coaching, from Washington to Minnesota — with Randy Wittman, Sam Mitchell, Tom Thibodeau and, of course, his father — the systems Saunders has coached in were nothing like this. From a different generation, those coaches used constructs with well-defined principles. But Ryan now has his own prerogative. And with that autonomy, he has chosen a system that more operates in a gray area, that will look more like a smart game of pickup.
I thought Shabazz Napier described the chaos of Saunders' system best when he said, "his plays are our spots on the floor."
In tandem, or as he likes to say, "in alignment" with the Wolves new president of basketball operations Gersson Rosas, Saunders is going to shock Minnesota Timberwolves viewers with a brand of basketball that they have never seen before. Hands down, this will be the fastest-paced team in Timberwolves history.
"It is a major change," said Saunders. "A major shift."
The logic for teams that have demonstrably added pace in previous seasons comes from the belief that the athletes on their roster can punish the opponent by outrunning them. Those teams trusted in the notion that in the game of basketball the team with the ball carries the authority to impose their will. As Jordan Bell, who played on the Golden State Warriors the past two seasons, likes to say, "speed kills."
"If you're playing fast, you're trying to separate," said Robert Covington of Saunders' system. "You're trying to move the defense."
In the transition from defense-to-offense, Saunders wants that separation to be immediate. It won't matter who grabs the rebound or secures the steal, that player's job is to shift instantly into attack mode. Immediately, once possession is secured, the new offense demands a sprint-dribble forward or a hit ahead pass to a teammate. Gone are the days of securing the rebound, pivoting around and waiting for the point guard to come get the ball. On the 2019-20 Timberwolves, everyone is a point guard.
But will it work? Separating from the defense with pace is only beneficial if the overall effectiveness of that style of offense is a positive departure from what the effectiveness would have been at a slower and more traditional pace. That is the ultimate question baked into the major change Saunders is implementing: Will this blueprint maximize the players on the roster?
That there is a hairy question, and has two tentacles to it. Is it a blueprint that maximizes this roster? Or is it a blueprint that maximizes the next great Timberwolves team? It is a fact that Rosas is nowhere near done building out this team. This Timberwolves roster has very few pieces that will be on the next great Timberwolves team. Rosas knows he has to eventually add more high-end talent to this roster — because the only current high-end talent under contract, by most accounts, is Karl-Anthony Towns. So the hairy question is best answered by asking: Is this a blueprint that maximizes KAT?
And to know what maximizes Towns, it is worth exploring what subtracts from his game. As it pertains to the pace of play, we then need to explore what the opportunity cost of this style of play is. On a very simple level, the blueprint Saunders and Rosas are implementing has to, at least eventually, provide greater positive value than what it comparatively sacrifices.
Looking at what the opportunity cost of playing with an extreme pace will be with this roster provides a data point. There is, of course, the abiding caveat of these costs potentially being mitigated by eventually adding different pieces to the roster. But for now, this is what we have. So let's look at what we can reasonably expect the cost of playing with pace to be for Saunders' current roster.
THE OPPORTUNITY COST OF PACE-BASED FATIGUE
If we assume that the wear of an up-tempo style has an equal physical impact on both the offense and defense, then the Timberwolves fast-paced offense comes without a direct cost. However, that implies all possessions are built equally. More directly, the implication would be that if the Wolves could play fast every possession for all 48 minutes then there would be no adverse side effects. That is not the case.
This pace, particularly early on in the season as players are working their way into game shape, is not sustainable for four quarters. Thus, the opportunity cost is calculated by understanding the price of shifting gears — down from a blitzkrieg and into a slower, more traditional halfcourt pace. Said differently: How much will the inherent need to occasionally slow down impact the overall effectiveness of the offense? The answer to that is the opportunity cost of the fatigue that comes with pace.
"We can't play at the pace that we want to play for a full 48 minutes, it's physically impossible," said Covington when I asked what the downside of this style could be. "At some point, your body is gonna be like, 'Okay.' During certain aspects of the game, you gotta slow it down. You have to."
How grave will the cost be? The answer to that will be answered by how many effective options the Wolves have in slowed down half-court offensive set. Can Andrew Wiggins become a reasonably effective pick-and-roll initiator? Will Jarrett Culver be able to create for himself off-the-bounce? Does Jeff Teague still have the wiggle he showcased back in his Atlanta days? Or are Karl-Anthony Towns post-ups the only safe bet for isolation efficiency within this roster's current construction?
KAT's utilization is a cost-benefit analysis in and of himself.
The Opportunity cost of Moving Kat to the perimeter
Anyone can bring the ball up the floor for the Wolves this season; so, in that sense, everyone is a point guard. But Towns is not going to be the point guard of the offense. Once the ball crosses the halfcourt line, players have spots on the floor that they're directed to. KAT's spot is going to be at the top-of-the-key; he will function as the quarterback of the offense, ready to pass (facilitate the offense), take the top off the defense (fire from 3 at will), and scramble (attack the rim).
There is logic to the move. KAT is 7-feet tall and can score from anywhere. We know that. But, again: What is the opportunity cost? It is known that Towns is also a beast on the block. He was one of the league's most effective post-up players last season and posted-up more than everyone in the league not named LaMarcus Aldridge. In other words, KAT's shot mix was already fantastic in the effectiveness it derived. So how much will removing one of his staples impact his overall performance? It's part of Saunders' calculus.
"The points per possession when we get the ball to him inside last year was pretty good," said Saunders. "Now we did do a lot more of that last year, which ended up slowing us down a good amount."
The second part of that quote suggests one of two things: 1. Saunders believes that the Wolves will immediately be a better offensive group playing faster, with KAT up top; 2. Saunders believes that the Wolves will eventually be a better offensive group playing faster, with KAT up top. Either way, it's clearly the plan.
"He's got to continue to get comfortable at the top of the key, and that's one of the reasons we've been slow to put some straight post-ups in," Saunders continued. "I bet that during the regular season we'll see a few more because he is effective there. But we still want to be a team that is spread and we want to be a team that makes plays for others."
The opportunity cost of moving Towns to the top will be defined by how KAT himself handles the shift. But also, as Saunders said, will be defined by "others' ability to finish" the plays Towns creates for them.
The opportunity cost of Defensive execution while playing with offensive pace
Robert Covington, the team's clear-cut best defender, didn't mince words when I asked how the pace will impact the defensive side of the ball.
"We do give up a little on the defensive side," said Covington, as he began to describe how much smaller this roster is. "Ultimately, we got KAT, we got Wigs, we're a lot smaller."
Covington was probably willing to drop this note because he is feeling the shift most. After almost exclusively being flanked by multiple big men last season, Covington, now, shifts into being a big man in this scheme. He is the power forward, and he knows that changes a lot for him.
"I have to get in there, and I have to battle," Covington continued. "It brings back old tendencies from when I was in college and high school. So, it just puts me in a position where now I have to go and get the extra mile. I can't just go in and expect the bigs to box out and then I can come in to get the rebound. I have to actually initiate the box out because then I'm going to be that guy that is boxing out other guys, and then them guys come in and get the rebound."
It's worth noting that the rebounding element of shift showed few warts in the preseason. Covington racked up 30 boards in 50 total minutes in the Wolves final two preseason games — when the Wolves' rotations began to represent a fair proxy for what the regular season should look like.
But even if the rebounding is shored up, there is another Covington-related opportunity cost calculation to be factored into the defense: If RoCo is the 4-man, will he be restricted to just guarding other bigs? This probably won't be black and white. When Saunders started Treveon Graham during the preseason, functionally as the 3-man, Graham defended bigs (like Draymond Green), freeing Covington to defend wings (like D'Angelo Russell). But even then, Covington wasn't shifting all the way down to defending point guards, as he did during his brief — but wonderful — injury-free stint last season.
Even though Covington's man (Kemba Walker) scores here, in my opinion, this was the single most-encouraging play of last season — and it came with Covington defending the point guard. For a brief moment, it felt real: KAT could defensively be fixed by RoCo's presence. Twice in one possession, he was a step ahead of the lightning-quick Walker, and it was because Covington's presence slowed everything down.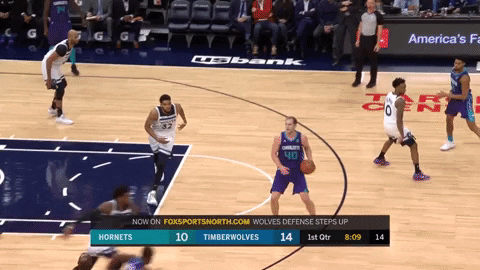 Covington may actually be even more positively impactful in an off-ball role. No really, he might be; we just don't know. What is known is that Covington was an elite point-of-attack defender when slotted alongside Towns last season, and that just isn't going to happen as much this season with Covington at power forward.
So what is the opportunity cost of Saunders' new, fast-paced offensive system? Quite frankly, we don't know. We do know that there are downsides. Things can go wrong. But that's basketball. By creating individualized blueprints, every single team in the league is betting that the system they have put in place will render positives that outweigh the negative by-products simultaneously produced.
The effectiveness of Saunders' blueprint will be particularly worth monitoring throughout the season — because it's bigger than this season; this is the blueprint of the future. To commit to a style of play that does not match the skillsets of the players on the roster is a bold bet. It is Saunders and Rosas's first true gamble.
The post What is the Opportunity Cost of the Timberwolves New, Fast-Paced Offense? appeared first on Zone Coverage.