12:02pm: The Blue Jays have announced the trade.
11:31am: The Blue Jays and Twins have a deal in place sending right-hander Jose Berrios to Toronto, reports Ken Rosenthal of The Athletic (Twitter link). MLB.com's Jon Morosi reports that top pitching prospect Simeon Woods Richardson is part of the return. Infielder Austin Martin, the No. 5 overall pick from last summer's draft, is also going to Minnesota, reports Dan Hayes of The Athletic.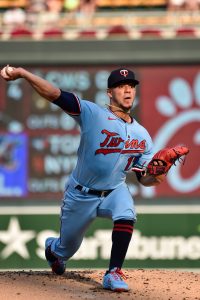 Berrios, 27, gives the Blue  Jays perhaps the second-best pitcher on this summer's trade market, trailing only Max Scherzer, who is expected to join the Dodgers later today. Unlike Scherzer, he's controllable beyond the 2021 season, as he's only in his second arbitration season. Berrios is earning $6.1MM in 2021 and will be due one more arbitration raise this winter before reaching free agency upon conclusion of the 2022 campaign.
Berrios will join Hyun Jin Ryu and the resurgent Robbie Ray atop the Toronto rotation, comprising what now looks to be a formidable trio. He's in the midst of one of his finest seasons, pitching to a 3.48 ERA with a career-best 25.7 percent strikeout rate, an excellent 6.5 percent walk rate and a career-high 43.6 percent ground-ball rate. He's posted those numbers through 20 starts and a total of 121 1/3 frames, standing out as one of the dwindling number of pitchers in today's game who averages six-plus frames per outing.
Of course, Berrios isn't simply durable on a per-game basis. He's been one of the game's most durable starting pitchers overall, throughout the entirety of his career. He's never been on the Major League injured list and is currently on pace for what would be his fourth straight season of a full slate of starts. He made 26 appearances back in 2017 — the final season he was optioned to the minors — and has since made 32 starts, 32 starts, 12 starts (a full workload in last year's 60-game season) and 20 starts so far in 2020.
During that time, he's never posted an ERA above 4.00 and has pitched to an overall 3.76 mark with a 24.2 percent strikeout rate and a 7.2 percent walk rate. Berrios may not quite be a Cy Young-caliber, top-of-the-rotation ace, but he's as consistent and durable as it comes for a second/third starter.
The Blue Jays paid a steep price to acquire a year and a half of that consistency. Martin, last year's No. 5 overall pick, was viewed by many in the industry as the best all-around player in the draft class. It was a legitimate surprise when he slipped beyond the No. 2 overall pick and fell to the Jays with the fifth selection. He's currently ranked as the No. 16 prospect in the game at MLB.com, No. 21 at Baseball America and No. 23 at FanGraphs.
Martin starred at Vanderbilt in college, hitting .368/.474/.532 in his college career. The Jays dropped him right into Double-A to begin 2021, his first professional season, and it hasn't looked like he's missed a beat. In 250 plate appearances, Martin has posted a .281/.424/.383 with a pair of homers, ten doubles, two triples and nine stolen bases. He's walked at a hearty 14.8 percent clip against a 21.2 percent strikeout rate. That batting line is 32 percent better than league average in an immensely pitcher-friendly Double-A environment, by measure of wRC+.
The main question on Martin is simply one of where he'll play. He's split his time evenly between shortstop and center field in Double-A this season. At the time of the draft, some scouts questioned whether he could stick at shortstop in pro ball, but the Jays have been giving him that chance. Even if shortstop isn't his ultimate home on the diamond, however, most scouting reports on the 22-year-old Martin agree that his athleticism will translate to third base, center field or second base. The general expectation surrounding Martin is that he'll be an above-average regular regardless of where he settles in on the diamond.
Woods Richardson has had a rougher season as Martin's teammate in Double-A, but he's only 20 years old — nearly five years younger than the average age of his competitors at that level. He entered the season widely regarded as a top 100 prospect, and while he's since dropped off Baseball America's list following the draft, he still ranks 49th at FanGraphs and 68th at MLB.com.
The Jays initially acquired Woods Richardson from the Mets in the trade that send Marcus Stroman to Queens. He's made 11 starts in New Hampshire this season and posted a grisly 5.76 ERA, although that number is inflated by a .359 average on balls in play and an abnormally low 58 percent strand rate. Woods-Richardson has walked too many hitters (12.8 percent) but also fanned a third of his opponents so far on the year. Woods Richardson is away from the club right now, pitching for Team USA in the Olympics (as is fellow newly acquired Twins pitching prospect Joe Ryan).
FanGraphs' Eric Longenhagen writes that Woods Richardson works with both a four-seamer and a two-seamer, also praising the righty's changeup and the shape of his curveball. MLB.com's report praised Woods Richardson's changeup as the best in Toronto's system, and the general consensus on the right-hander is that if he can add a little velocity as he continues to fill out, he has the makings of a No. 2 or No. 3 starter.
It's an impressive haul for the Twins, though the organization has to be disappointed that the season came to this. Minnesota entered the year as defending AL Central champs and hopeful contenders, but their season spiraled out of control early and has yet to recover. That's prompted the front office to pivot to what certainly looks like it'll be an accelerated retooling of the roster.
The Twins still have an impressive crop of controllable hitters, and the additions of Martin, Woods Richardson, Ryan and Drew Strotman in their first two trades of deadline season give them four upper-minors talents who could impact the club by 2022 (perhaps 2023, in Woods Richardson's case). Parting with Berrios means bidding adieu to the best pitcher the organization has developed in more than a decade, but they'll hope that the recent influx of talent quickly supplements their foundation of young hitters and produces another arm or two of Berrios' caliber before long.