Irv Smith Jr. was the source of much optimism entering last season, but the Vikings lost him due to injury. Now, there is renewed hope that he will be able to not only return to full health, but also assume a large role in the team's offense.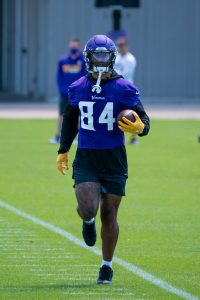 ESPN's Kevin Seifert reports that the team is eyeing training camp as the point at which Smith resumes full training. He has already conducted some on-field work, albeit not at full speed, as he rehabs the knee injury he suffered during the Vikings' final preseason game last year.
That cast serious doubt on his availability during at least the latter part of the campaign. Then, days later, it was reported that the required meniscus surgery would keep him sidelined for the season. The news dealt a significant blow to the 23-year-old's personal development, as well as the team's passing game. In his absence, Minnesota leaned on Tyler Conklin as their No. 1 tight end.
Conklin signed with the Jets in free agency, though, leaving a vacancy at the top of the depth chart. As Seifert notes, the team's lack of major action in replacing Conklin (both in free agency and the draft) points to their confidence that Smith can fully rebound and take on the starter's workload he was in line for one year ago.
"For Irv, this whole spring is a great example of a player figuring out where he is coming off his injury" head coach Kevin O'Connell said recently. He added, "some of the success he's had – both with how we're going to use him and ultimately where he is at in his career – he's ready to absorb all of this and be in a position to… play with a bunch of confidence that he's going to be a major part of what we do".
Seifert notes that quarterback Kirk Cousins has a long history of heavily targeting tight ends, including some of the campaigns when he and O'Connell worked together in Washington. While Smith will have to compete with Justin Jefferson and Adam Thielen in terms of other high-profile pass-catchers, and the presence of Dalvin Cook will lead to a consistent commitment to the run game, the Alabama product should be able to take a step forward in 2022, as long as he recovers in full along the team's stated schedule.