Harrison Smith has spent his entire nine-year career in Minnesota, and the Pro Bowl safety naturally wants to end his career with the Vikings. However, during a recent appearance on All Things Covered, Smith admitted to the hosts, current teammate Patrick Peterson and former NFL cornerback Bryant McFadden, that anything could happen.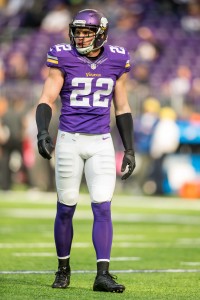 "Yeah," Smith said. "I mean I don't know what happens at the end of careers. I was listening to, it might've been the [episode] with Champ [Bailey], Pat Pete was saying at that ten-year mark, sometimes things change. I don't plan on that happening, but the NFL is the NFL. It's always wild. But I'll always consider myself a Viking no matter what."
These comments are relatively timely; we learned earlier this week that the Vikings were exploring an extension with the veteran defensive back. Smith signed a five-year, $51.25MM deal nearly five years ago, but his AAV is now 11th among safeties. Smith is set to hit free agency next offseason.
Given Anthony Harris' offseason departure, it would make sense for the Vikings to explore another deal with Smith, and it'd make sense for Smith to look for a slight pay bump. Another five-year deal is probably not in the cards, but Smith has remained a high-end safety into his 30s, with Pro Football Focus rating him as a top-15 player at the position in each year of his current contract.
The 2021 season will be Smith's 10th, and while the 32-year-old defender saw his five-year run of Pro Bowls cease in 2020, he matched his career high with five interceptions last season. He did so for a Vikings defense that cratered after defections and numerous injuries stripped away veterans. Minnesota let Harris walk to Philadelphia — on merely a one-year, $4MM deal — but signed ex-Dallas starter Xavier Woods and drafted Camryn Bynum in Round 4 this year.
Photo courtesy of USA Today Sports Images.