Vikings cornerback Cameron Dantzler was placed on injured reserve yesterday as the result of an ankle injury, according to Ian Rapoport of NFL Network. The loss of their starting cornerback comes at a four-game stretch where the Vikings' opponents are a combined 23-13.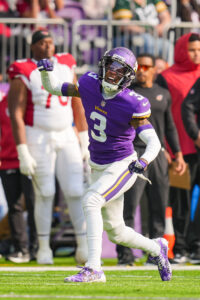 Dantzler has become a full-time starter in his third season in the NFL. When Dantzler left last week's win over the Commanders, Minnesota utilized a mixture of Akayleb Evans and Chandon Sullivan opposite the team's other starter Patrick Peterson. The two were asked once again to step in today against the Bills before Evans left the game with an apparent concussion, requiring the Vikings to turn to rookie second-round pick Andrew Booth who was playing his first career NFL snaps on defense.
The Vikings will hope Evans can clear concussion protocols quickly to avoid having to rely too much on Booth and Kris Boyd, who had seen a combined two defensive snaps before today's game. The team also expects Dantzler to make a return this season. By placing him on IR before today's matchup, the game will count toward the four-game minimum that he must remain on IR before being eligible to return. If he can recover quickly, Dantzler can be eligible to return as soon as Week 14, in time for a trip to Detroit.
In a corresponding move yesterday, the Vikings also signed practice squad cornerback Duke Shelley to the active roster. The third-year cornerback out of Kansas State had appeared in two games prior to this week but only appeared on special teams. Shelley was also forced into action during the team's overtime win today, breaking up a pass intended for Bills tight end Dawson Knox in the endzone that would've ended the game had it been completed. Instead, Peterson intercepted quarterback Josh Allen on the very next play, cementing the seventh-straight victory for the Vikings.