Dede Westbrook waited until days before training camp to sign in 2021. That made sense, considering the former Heisman Trophy finalist was coming off an ACL tear. The veteran wide receiver has gone deep into this year's offseason without a deal as well.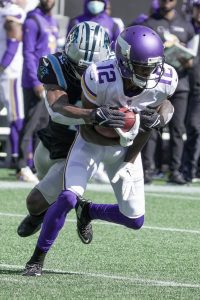 The Vikings' new regime will take a look at one of the previous staff's additions, with Ian Rapoport of NFL.com noting (via Twitter) Westbrook is working out with the team Tuesday. The former Jaguars draftee signed with the Vikings last year but operated patiently before doing so. A quick reunion could be in the cards soon.
The Bengals, 49ers and Seahawks showed interest in the Oklahoma product last year. Westbrook met with the Vikings first and scrapped plans for a Seahawks visit, signing a deal with Minnesota. That contract — a one-year, $1.1MM pact — did not end up leading to a prominent role for Westbrook, who worked as a backup and caught 10 passes for 68 yards. He also operated as the team's primary punt returner. The now-Kevin O'Connell-led Vikes will determine if the 6-foot wideout is a fit.
While Rapoport adds other teams have shown interest, Westbrook's market is not likely to produce a contract much more lucrative than his previous deal. Given the 28-year-old wideout's recent history — a two-game 2020 and a 10-catch 2021 — he stands to face a crucial career stretch. He does have a history of decent production, however, combining for 1,377 yards and eight touchdowns from 2018-19 — on 66 receptions in each season. Westbrook led the 2018 Jacksonville outfit in receiving. The former seventh-round pick should also be in better form this coming season, being more than a year removed from the severe knee injury.
Westbrook's most notable contributions came as a Sooners senior, when he broke through on a Baker Mayfield-piloted offense for 1,524 yards and 17 touchdowns. Mayfield and Westbrook ate into each other's vote shares that year, finishing behind Lamar Jackson and Deshaun Watson, respectively, in the Heisman balloting.
Minnesota struggled for years to find a reliable No. 3 wideout. The team, however, received promising work from 2020 draftee K.J. Osborn, who totaled 50 receptions for 655 yards and seven touchdowns last season. Westbrook returning to the Vikings would likely mean being positioned behind Osborn and regulars Justin Jefferson and Adam Thielen.