The Vikings entered last night and ended last night with four third-round picks, but it sounds like the front office tried to consolidate those selections and move into the second round. General manager Rick Spielman told reporters that he tried to trade into the second round but the price proved to be too expensive (via Chris Tomasson of the St. Paul Pioneer Press on Twitter).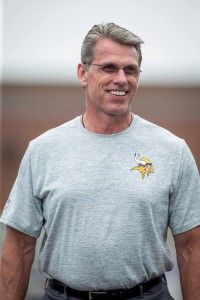 The Vikings didn't own a second-round pick thanks to last year's Yannick Ngakoue trade. They managed to somewhat recoup that investment when they shipped the veteran to the Ravens for a third-round pick. Spielman then added another pair of third-rounders from the Jets when Minny moved back from No. 14 to No. 23.
The team ultimately used each of those third-round picks last night (including their own):
The Vikings will have plenty of opportunities to move around the board on Saturday. The team has six selections between the fourth and sixth rounds, including three selections in the fourth round.
Photo courtesy of USA Today Sports Images.