While it took a long time for Wild winger Kirill Kaprizov to come to North America, he proved to be well worth the wait.  His rookie season was strong enough to make him a top contender for the Calder Trophy (the finalists will be revealed for Rookie of the Year on Thursday).  With Minnesota opting to burn the first year of his contract in the bubble, Kaprizov is already up for his second contract.  The team certainly wants to keep him around for the long haul as Michael Russo of The Athletic reports (subscription link) that the team has already offered a maximum eight-year contract with an AAV around the $8MM mark.  That would certainly represent a substantial raise from the $925K (base salary and signing bonus) he made on his entry-level pact.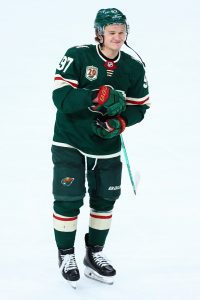 The 24-year-old led the Wild in scoring this season with 27 goals and 24 assists in 55 games while logging just over 18 minutes a game.  His ice time increased slightly in the playoffs but he was only able to manage two goals and an assist in their seven-game loss to Vegas in the first round.  While he has several strong years in the KHL under his belt, having just one year of NHL experience makes this type of offer much riskier but clearly, GM Bill Guerin is comfortable with it.
However, the fact the deal isn't done is also noteworthy.  It could be for a couple of reasons as well.  The simple one is that his camp may want more money to buy out five years of UFA eligibility but it's also possible that they prefer a shorter-term deal that would allow him to hit the open market while he's still in the prime of his career.  By then, the salary cap should be starting to go up again as well which could increase his earnings ceiling.
Regardless, Guerin's offer is quite the opener.  After waiting so long to get him in a Minnesota uniform, it's certainly understandable that they want to keep him around for as long as possible.  We'll see over the coming months if Kaprizov is open to sticking around for the long haul.
Photo courtesy of USA Today Sports Images.